This homemade dog treat recipe is easy to make. Your dog will love these Peanut Butter Dog Donut Treats with Carob Icing. These dog donuts contain all natural ingredients, so they are a perfect gourmet treat for your furry friend.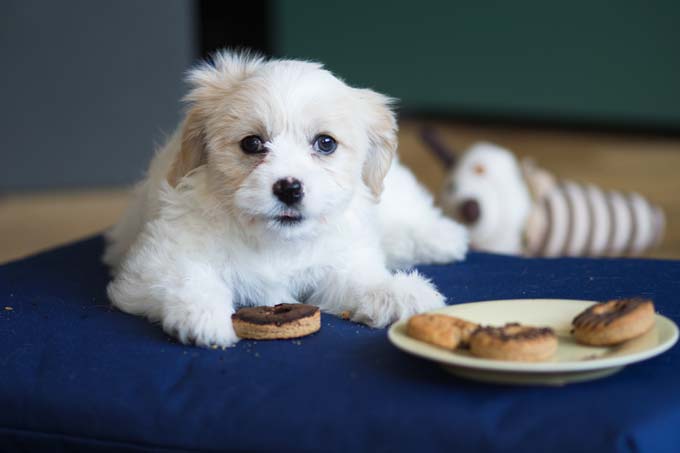 Every dog that I have ever come across loves dog treats! Our dog, Kili (pronounced like "kiwi", but with an "l") is no different.
These gourmet homemade dog treats are made with peanut butter and carob icing
I started making these homemade Peanut Butter Dog Donut Treats with Carob Icing for her when she was a puppy, and I continue to make these dog donuts for her on a regular basis.
When Kili was a puppy, I loved the mornings since she always ate breakfast with me no matter how early I woke up. It was our time to bond over breakfast. We did most of her training in the mornings too since she wasn't as easily distracted then.
While breakfast for Kili usually consisted of kibble, these Peanut Butter Dog Donut Treats were such a fun way to treat her in the morning during her training sessions. These days, she will do her whole routine - sit, shake, down, roll-over, stretch - every time she sees me take out one of these donut dog treats.
Spoil your pup a healthy homemade dog treat that's fun for breakfast
She loved these homemade dog treats as a puppy, and she still gets just as excited for them now!
If your dog loves peanut butter, then your dog will love these Peanut Butter Dog Donut Treats with Carob Icing.
This recipe for homemade dog treats is easy to make
Everything in this homemade dog donut treat is safe for dogs (and human alike) to eat. It's best to to use a natural peanut butter that has no added sugar or salt.
And while chocolate is harmful to dogs, carob is safe for dogs to consume. Our dog loves the carob icing on this donut dog treat, and will lick up every last crumb of it.
I have an incredibly fun time making these homemade dog treats in the shape of donuts and decorating them with carob icing, but it does take some extra time to do so.
These gourmet dog treats are made with all natural ingredients
While this recipe is easy to make, to save time and to make these dog treats even easier to make, you can use any cookie cutter you would like. Just make sure the cookie cutter isn't excessively large, unless you are after giant dog treats.
Alternatively, if you would like to save even more time - skip the cookie cutter all together. You can simply roll the peanut butter dough out and just cut the dog treats into squares.
You may need to adjust the baking time a little bit - if you make a smaller sized dog treat, them you may need to reduce the baking time, and vice versa. But you'll still end up with a very tasty gourmet dog treat that your furry friend is bound to love.
Since this recipe is used with all human-safe ingredients, it's edible for people too. I wouldn't really recommend it, especially when you yourself can eat this Glazed Donut (Krispy Kreme Donut Copycat) instead. But it's always good to know you are feeding your dog a wholesome gourmet treat.
Make these peanut butter dog donuts extra special by decorating them with carob icing
Lastly, when I'm looking for a quick gift for a dog lover, I often package up these homemade dog donuts and gave them away as gifts. These Peanut Butter Dog Donut Treats with Carob Icing are always a hit with the owners and their dogs.
I hope you enjoy making these Peanut Butter Dog Donut Treats with Carob Icing as much as your dog is sure to love them!
Peanut Butter Dog Donut Treats with Carob Icing
Print Recipe
Save Recipe
Saved!
This peanut butter dog treat recipe are made in the shape of donuts and covered in carob icing to look like a real donut. My puppy loves them!
Ingredients
For the donuts
1

medium

egg

½

cup

skim milk

½

cup

all-natural smooth peanut butter

(unsalted)

1

cup

whole wheat flour

1

tablespoon

baking powder
For the icing
¼

cup

carob powder

¼

cup

water

- boiling
Instructions
Preheat the oven to 375°F/190°C. Line a baking pan with parchment paper.
To make the donuts
In a medium bowl, beat the egg. Mix in the milk and peanut butter and beat until smooth. Using a fork, mix in the whole wheat flour and baking powder. On a flat surface, knead together until everything is well combined.

Roll out or pat the dough on a flat surface until it is about ½ inch (1 ¼ cm) thick. Using a small round cookie cutter, cut the dough into as many circles as you can fit. Using a smaller circular cutter (I used the large end of a frosting tip), cut out smaller circles in the middle of each circle to create the donut. Set the cut donuts on the pan. Roll the scraps of dough together and repeat this step, until you have used up as much dough as you can.

Bake for 20 minutes, until the donuts are dried and hard. Allow the donuts to cool.
To make the icing
In a small bowl, add in the carob powder and the boiling water. Mix until a smooth paste forms. If the icing is too stiff, add in water ½ teaspoon at a time.

Add the carob icing into a small icing squeeze bottle. Once the donuts have cooled, pipe the carob icing on top of the donuts. To keep the icing from cooling and hardening in the bottle, place it in a bowl of warm water when you are between donuts.
Notes
The carob icing does not stick well to the donuts and may flake off as you handle the donuts (ie. bag them up).
Note: Nutrition information is a rough estimate.
Love this?
I would appreciate a star review! Snap a picture and share it with me on Instagram using #theworktop and tagging me @theworktop.