This Crescent Roll Breakfast Casserole is delicious! Learn how to make this easy breakfast recipe with my tips and tricks below. Each crescent roll is stuffed with cream cheese before being baked with eggs, ham and cheese.
A Favorite Crescent Roll Breakfast Casserole
This breakfast casserole is so easy with the use of crescent rolls! I love the soft texture of the crescent rolls in this recipe.
If you are like me, maybe you tend to always keep a couple can of crescent rolls in the fridge. If so, then you can get cooking right away!
Why we love this Crescent Breakfast Casserole
We love this crescent roll breakfast bake for many different reasons. First and foremost, it is delicious! This breakfast is sure to be a family favorite.
You get the slightly sweet flavor of crescent rolls mixed with the salty ham, and touch of spicy jalapeño. And when the crescent rolls soak and bake in the egg mixture, they get puffy and soft. The cream cheese rolled in gives them a creamy bite too.
Second, this breakfast casserole is also easy to make. Simply assemble and bake.
Third, this recipe makes a big breakfast. You can easily serve this dish to a big family.
Otherwise, you can make this on the weekend. Then, during the weekday, simply reheat individual portions.
This breakfast recipe is also perfect as a brunch party idea.
Ingredients
You don't need any out of the ordinary ingredients. As such, all the ingredients can be picked up from a local supermarket.
Ingredients for this crescent roll breakfast casserole:
Two cans of crescent rolls
Cream cheese
Eggs
Milk
Ham (thick sliced)
Shredded cheese
Jalapeño
Salt
Pepper
How to Make Crescent Roll Breakfast Casserole
This recipe is not hard to make. However, it does take about 15 minutes to assemble.
The full recipe is below. But I'll share some tips on how to make this breakfast casserole with crescent rolls.
Take the crescent rolls out of the fridge first
When using crescent roll dough, it's helpful to take the can out of the fridge for about 10 minutes first. Doing so allows the dough to relax a bit.
When the dough is too cold, it can be a bit too stiff. As such, it breaks apart when you try to unroll it.
Spread cream cheese in each crescent roll
First you need to pop open and unroll the crescent roll dough from the can. Then separate them into individual triangles.
On each of the triangles, smear a big dollop of cream cheese. Once you do that, roll each crescent roll up.
Place the crescent rolls in the casserole pan
I lined up my crescent rolls into 2 columns, with 8 in each column. There was about ½-inch gap between each crescent roll.
When it bakes, the crescent rolls will touch together. That is okay.
Prepare the egg mixture
First beat the eggs and milk together. Then mix in the other ingredients. The mixture will be very thick and chunky.
Have you ever seeded a jalapeño? If not, don't worry. It's easy. Here are some tips if you need them.
Gently pour on the egg mixture
Gently pour the egg mixture over the crescent rolls. Because it is so chunky, it won't pour very evenly.
Therefore, you'll need to use your fingers or a fork to help spread the ham, cheese and jalapeño evenly around. Make sure you spread it all over. Even to the edge of the casserole pan.
Bake until the entire crescent roll breakfast bake looks puffy
This breakfast bake will look puffy all over when it is done. As such, don't take it out early.
The edges will start to puff first. Also, it will start to brown from the edges.
If you feel like it is browning too quickly, feel free to cover it with a foil. However, I have had success baking it uncovered in my oven.
Just wait until the middle of this breakfast casserole is puffy. Then take it out of the oven. Otherwise, you risk having a runny middle. And that's never good.
Serve this crescent breakfast casserole
The crescent rolls soak up some of the egg mixture and puff up. But you can still see their distinct shape. As such, it's very easy to serve this breakfast into portions.
The photo below is two crescent rolls stuck together as one serving.
However, you can also see the photos where I have cut this casserole along the individual crescent rolls.
When your fork cuts into the crescent roll, don't forget! There is a cream cheese surprise inside. It balances out with the salty ham. And it also contrasts with the mild jalapeño.
Recipe for this Crescent Roll Breakfast Casserole
I really hope you enjoy this breakfast casserole made with crescent rolls! It's a great recipe for the holidays.
If you have any questions, please let me know in the comments.
Other breakfast casseroles you may love
I share lots of breakfast casseroles on The Worktop. Don't miss these other favorites: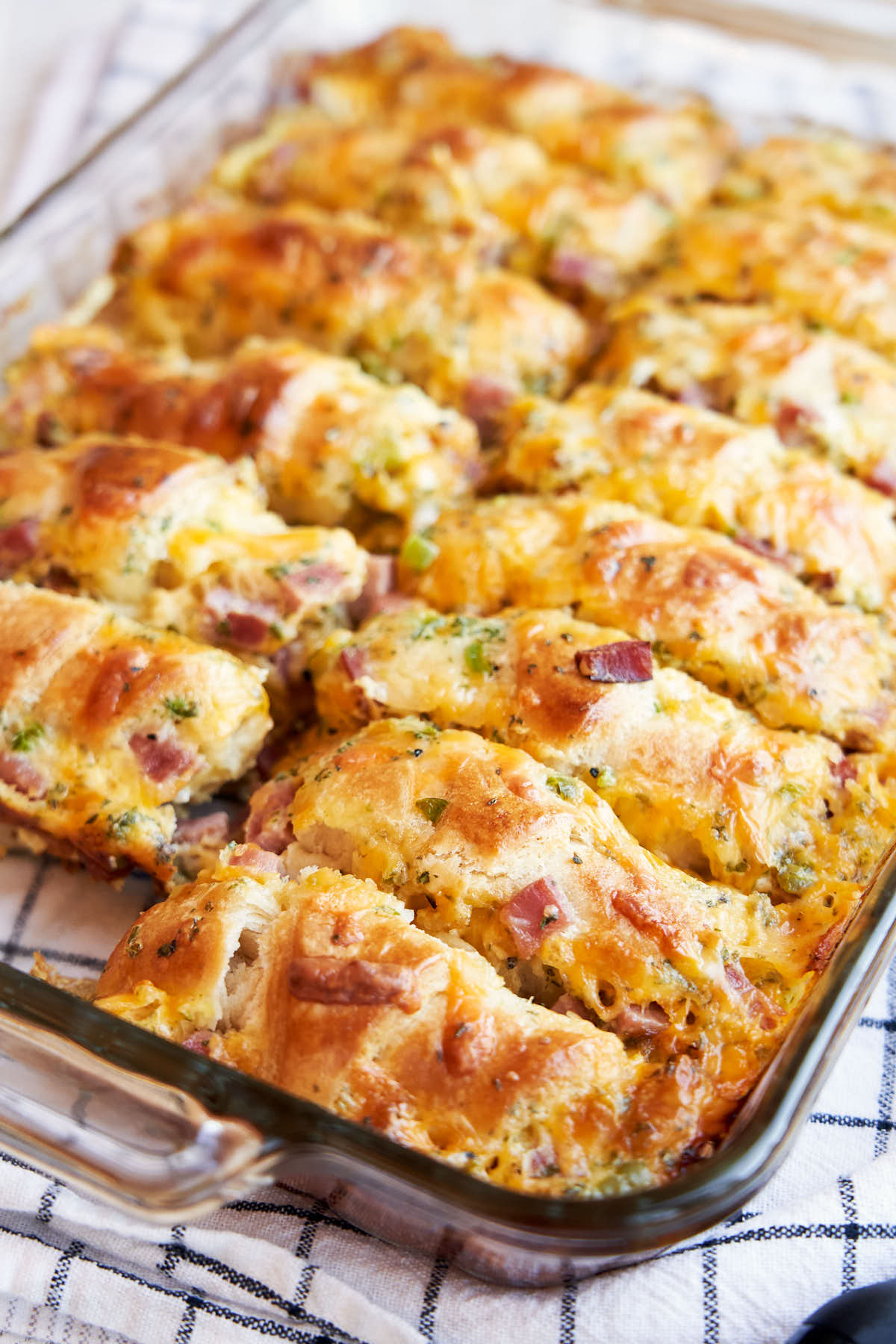 Crescent Roll Breakfast Casserole
Print Recipe
Save Recipe
Saved!
This Crescent Roll Breakfast Casserole is delicious! Learn how to make this easy breakfast recipe with my tips and tricks below. Each crescent roll is stuffed with cream cheese before being baked with eggs, ham and cheese.
Ingredients
2

8oz cans

crescent roll

4

ounces

cream cheese

6

large

eggs

1

cup

whole milk

2

cup

shredded cheese

- I used colby jack and cheddar

6-8

ounces

thick cut ham

- cubed into ½-cm pieces

1-2

whole

jalapeño

- deseeded and finely chopped

2

teaspoons

freeze-dried parsley

½

teaspoon

ground pepper

½

teaspoon

sea salt
Instructions
Preheat your oven to 375°C / 190°C.

Spread a light layer of butter all over a 9x13 casserole dish.

Unroll the crescent roll dough. Cut along the perforated lines. Smear a dollop of cream cheese on each crescent roll triangle. Then roll each one up.

Place the crescent rolls evenly in the casserole dish. I made 2 columns of 8 rolls each.

In a large bowl, beat together the eggs and milk. Mix in the shredded cheese, ham, jalapeño, parsley, pepper and salt. It will be a chunky mixture.

Pour everything over the crescent rolls, as evenly and carefully as you can. Using your hands or a fork, gently distribute all the ingredients. Make sure everything is evenly distributed, all the way to the edge. The mixture should just about cover the crescent rolls. You may have some of the crescent roll tops poking out. That is ok.

Bake in the middle oven rack for about 30-40 minutes, until cooked through. The entire casserole will be puffy and golden brown. If it browns too quickly in your oven, cover it with a foil.
Note: Nutrition information is a rough estimate.
Love this?
I would appreciate a star review! Snap a picture and share it with me on Instagram using #theworktop and tagging me @theworktop.