Enjoy Vegetable Congee for a warm and comforting breakfast. This Vegan Congee Recipe is nourishing, delicious and easy to make. It's a perfect recipe to make on a slow morning, or make it the night before and simply reheat it in the morning.
Chinese congee (rice porridge) is one of my ultimate comfort foods. It can be eaten any time of the day or year, but it's particularly enjoyable on a blistery morning because it will warm you right up.
Vegetable Congee is a comforting and nourishing breakfast
This Vegetable Congee is moorish and nutritious. Vegetable broth and liquid from soaking dried mushrooms serve as the foundation, infusing strong natural flavors into each of the brown rice grains.
The combination of earthier vegetables like sweet potatoes, wild mushrooms and collard greens make this vegetarian congee recipe filling, but not necessarily heavy, which is perfect for getting you through to lunch.
What vegetables can I add in this congee recipe?
This Vegetable Congee is very customizable, so here are some tips if you would like to tweak the recipe.
This congee recipe uses sweet potatoes and collard greens, but you can easily replace the sweet potato with carrots. Likewise, you can replace the collard greens with kale or chard.
A few other suggestions if you would like to add in more vegetables are: broccoli, daikon, carrots and cabbage. Keep in mind that you may need to add in different vegetables at different times, so the final texture of each vegetable is consistent with the soft easy-to-eat brown rice congee.
For example, harder vegetables like sweet potatoes will require you to cut them into small cubes and add them in earlier in the cooking process, or grate them. If you use spinach, you can add it at the very end.
This Vegetable Congee is made with all vegetables, so not only is it a vegetarian congee recipe, it is also a vegan congee recipe.
What are some vegetarian and vegan toppings for congee?
I've topped this Vegetable Congee with kimchi, spring onions, soy sauce and hot chili oil. Congee is open to a wide range of toppings, so experiment to find your favorites.
Other favorite vegetarian and vegan toppings include braised tofu, pickled diakon, roasted sesame seeds, seaweed, and bamboo shoots. You can find those in most asian supermarkets.
Tips for cooking this Vegetable Congee
This vegan congee recipe a very simple dish, but it does take about one and a half hours for the rice to stew. You don't need to do much except give the rice sufficient time to plump up and break down. Give the pot a stir every once in a while though, so the rice does not stick to the bottom of the pot.
If you are looking for a quick congee, try this Instant Pot Congee Recipe. It only needs to cook for 30 minutes.
I prefer making this vegetarian congee with brown rice because it gives the congee more texture and nutrition, but that comes at the expense of taking longer to cook. You can easily use white rice in this Vegetable Congee if you prefer. The texture of the rice grains will be smoother and silkier, and you can reduce the cooking time by roughly 30 minutes.
Enjoy this simple vegan congee recipe for dinner or breakfast
If you have cast iron pot, this is a perfect recipe for it so go ahead and use it. But any large pot will work. Just make sure it has a fitting lid.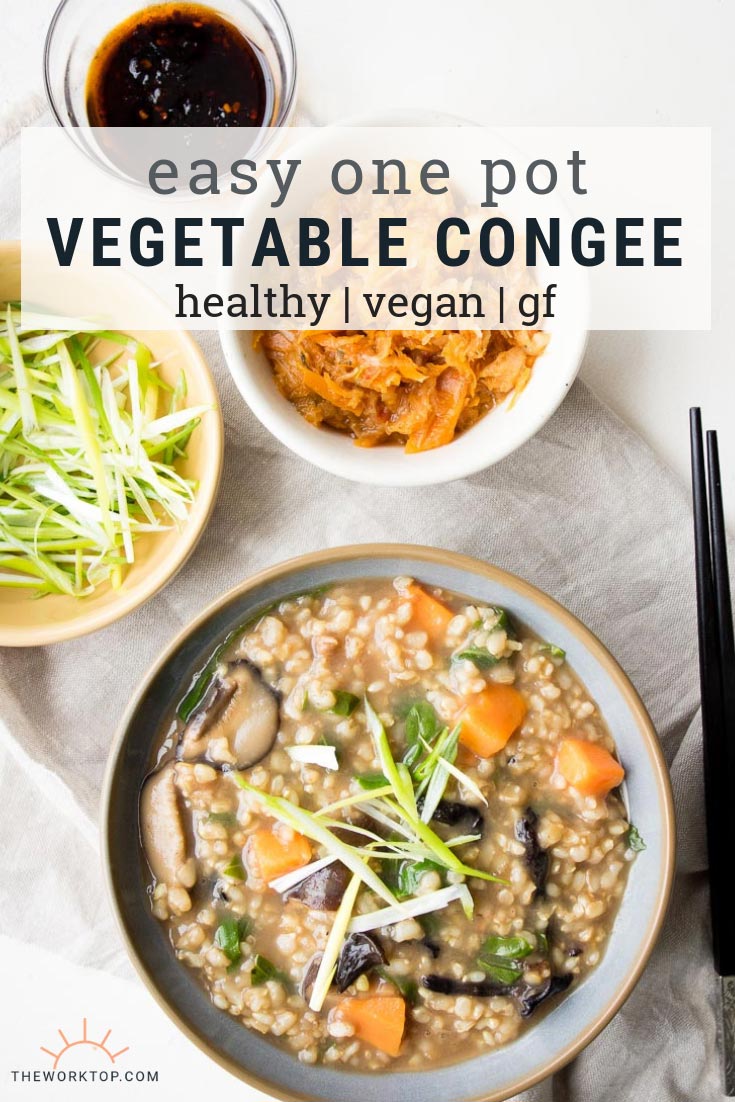 Vegetable Congee (GF, Vegan)
Print Recipe
Save Recipe
Saved!
Enjoy Vegetable Congee for a warm and comforting breakfast. This Vegan Congee Recipe is nourishing, delicious and easy to make. It's a perfect recipe to make on a slow morning, or make it the night before and simply reheat it in the morning.
Ingredients
1

cup

brown short grain rice

4

cups

vegetable broth

(water also works)

1

small knob

ginger

½

cup

dried sliced shiitake mushrooms

(see notes)

½

cup

dried mixed mushrooms

(I used a mixture of porcini, charcoal bumer, honey fungus, black trumpet and chanterelle) (see notes)

1

small

sweet potato

1

small bunch

collard greens (or other dark leafy greens such as kale, chard or cabbage)

(about 2 cups when cut)
Topping suggestions
kimchi

(use a vegan kimchi for vegan option)

soy sauce or tamari

(use tamari for GF)

hot chili oil

green onions / scallions
Instructions
Rinse the rice well and drain. In a large pot, add the rice, vegetable stock or water, and ginger. Bring to a boil, then turn the heat down and simmer, covered, stirring occasionally.

In the meantime, as the rice is cooking, in a large bowl, soak the dried mushrooms in 4 cups of warm water. Set aside. Peel and cut the sweet potato into 1-inch cubes. Set aside. Wash and cut the collard greens into 1-inch strips, removing any tough stalks. Set aside.

When the congee has been cooking for 45 minutes, and the mushrooms are fully rehydrated, add the mushrooms into the congee. Slowly pour in the soaking liquid, discarding the last bits of liquid where any dirt and grit may have accumulated. Stir in the sweet potatoes. Cover and continue simmering, stirring occasionally, for another 30 minutes.

After 30 minutes have passed, stir in the collard greens. Continue to simmer, stirring occasionally, for another 15 minutes. At this point, the rice grains should have fully softened and absorbed most of the water. If the congee is too watery, simmer without the covering the pot to allow some steam to escape for the last 15 minutes. If the congee is too thick, you can add additional water as needed.

Serve warm with desired toppings. I love this Vegetable Congee with topped with kimchi, green onions, a splash of soy sauce and a bit of hot chili oil.

PREPARE THE NIGHT BEFORE. You can make this congee the night before, cover and store in the refrigerator. I'll often start cooking a pot of this when I start preparing dinner. That way the congee can cook, cool and be put in the refrigerator before bed. Alternatively, enjoy some congee for dinner, and have the leftovers in the morning. Simply heat up the congee in the morning before serving.
Notes
This recipe is written for dried mushrooms that can be soaked and ready to use in approximately 30 minutes. Most any dried sliced mushrooms will work for this recipe. However, you can use whole dried mushrooms too. The only difference is that you will need to factor in enough enough time to for the mushrooms to rehydrate.
I recommend using dried mushrooms in this recipe because the soaking liquid will add additional flavor and depth to the congee.  
Note: Nutrition information is a rough estimate.
Love this?
I would appreciate a star review! Snap a picture and share it with me on Instagram using #theworktop and tagging me @theworktop.